Cycling Accident Claims
Bike Accident Claims – Call Us Now
Every year we deal with hundreds of cycling accident claims where cyclists have been injured whilst out on the road due to an accident that was not their fault. Don't accept anything less than the compensation you deserve.  We work on a no win no fee* agreement and have years of experience.
Call Our Freephone Number on 01252354433 for Free Claims Advice – If you would like a free telephone consultation about a bicycle accident claim or any injuries suffered whilst cycling then call us today. We offer a no-obligation discussion about how we can progress your claim for compensation or you can complete the email form for an immediate call back.
Why Choose Us for a Cycle Accident Claim?
With expert legal advice on hand 24 hours a day and 7 days a week via our call centre, you can be sure that you are getting the best advice possible, and will be in the hands of the leading lawyers and solicitors in the UK when it comes to making cycling accident claims.  Here are just a few reasons why you should call us today.
We understand the industry and help cyclists every year claim compensation
We will aim for personal injury compensation as well as loss of equipment
We aim to get your repairs into the cycling shop that you choose and prefer
We understand the needs of cyclists when it comes to making an accident claim
We work to claim maximum compensation as cyclists don't have insurance like motorists
We can advise on all forms of accident that occurred whilst on your bicycle
How Cycling Accident Claims Work
If you have been injured whilst out on the roads on your bicycle then this is all you have to do in order to get free advice on whether or not you can claim cycling and bicycle accident compensation.
Call our Freephone number to discuss your cycle accident claim
Have a no-obligation discussion about the circumstances of your accident
If successful, let our solicitors work on your compensation agreement.
We work very hard to make sure that you receive as much money as possible for any bike accident claims you have been involved in.
This includes recovering the price of your bicycle (from when it was purchased brand new), to any clothing, and accessories also damaged – but perhaps more importantly, any compensation that will due for a personal injury that you have suffered from including rehabilitation.
Types of Bicycle Accident Claims
We offer professional and expert legal advice to cyclists that have involved in an accident. We help to make successful cycling accident claims every year for injuries, equipment damage and more. Typically the type of accidents that we deal with are related to some very common issues, in the main due to negligence by other road users. Classic cases include where a car will turn across the path of a cyclist, or where a car comes through a junction without seeing the person on the bike, injuries occurring on roundabouts, plus where poorly maintained roads and highways have resulted in injuries.
Whilst those are the most common reasons for cyclists looking to make a cycle accident claim, there are also other circumstances where injury and accident can occur such as pedestrians stepping off pavements into the paths of bicycles, dog walkers, and many other scenarios.
Typical Personal Injuries From Cycling Accidents
Without the protection a car offers drivers to sheild them from harm, cyclists are generally reliant on a helmet and potentially some knee or elbow pads, but even that is fairly uncommon. This means that when cyclists are injured in accidents, they are usually at significant risk of serious, body-wide damage. This is exponentially so for motorcyclists, who have the same problem, yet at higher speeds.
Whilst minor injuries of cyclists might include whiplash from collisions or brusing of the legs from falls, moderate accidents may include arm bone breaks and hip displacement. More serious accidents can cause head injuries or even brain damage. Such injuries are especially more commonplace if the rider wasn't wearing a helmet – typical in bicycle hire schemes. No matter how you were injured whilst on your bike, it might be possible for you to make a claim so please do get in touch with us.
Statistics on UK Cycling Accidents
Casualties from cycling accidents are more common that you might think. With an increase in people cycling over the last couple of years according to governmental figures, accidents could unfortunately be on the increase. We hope that you aren't involved in the statistics below and implore you to be safe. If you do have an accident though please do call us regarding a bicycle accident claim.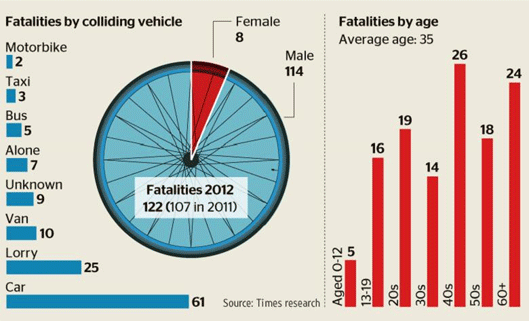 For more information please visit the ROSPA website.
---
Contact Our Accident Claim Specialists Today
Call us on 01252354433 to discuss your personal injury claim, or if you would like to contact Accident Claims UK online please complete our enquiry form. We're here to help.
Start Your Personal Injury Claim Today
01252354433
Contact Our Bicycle Accidents Claim Managers Now